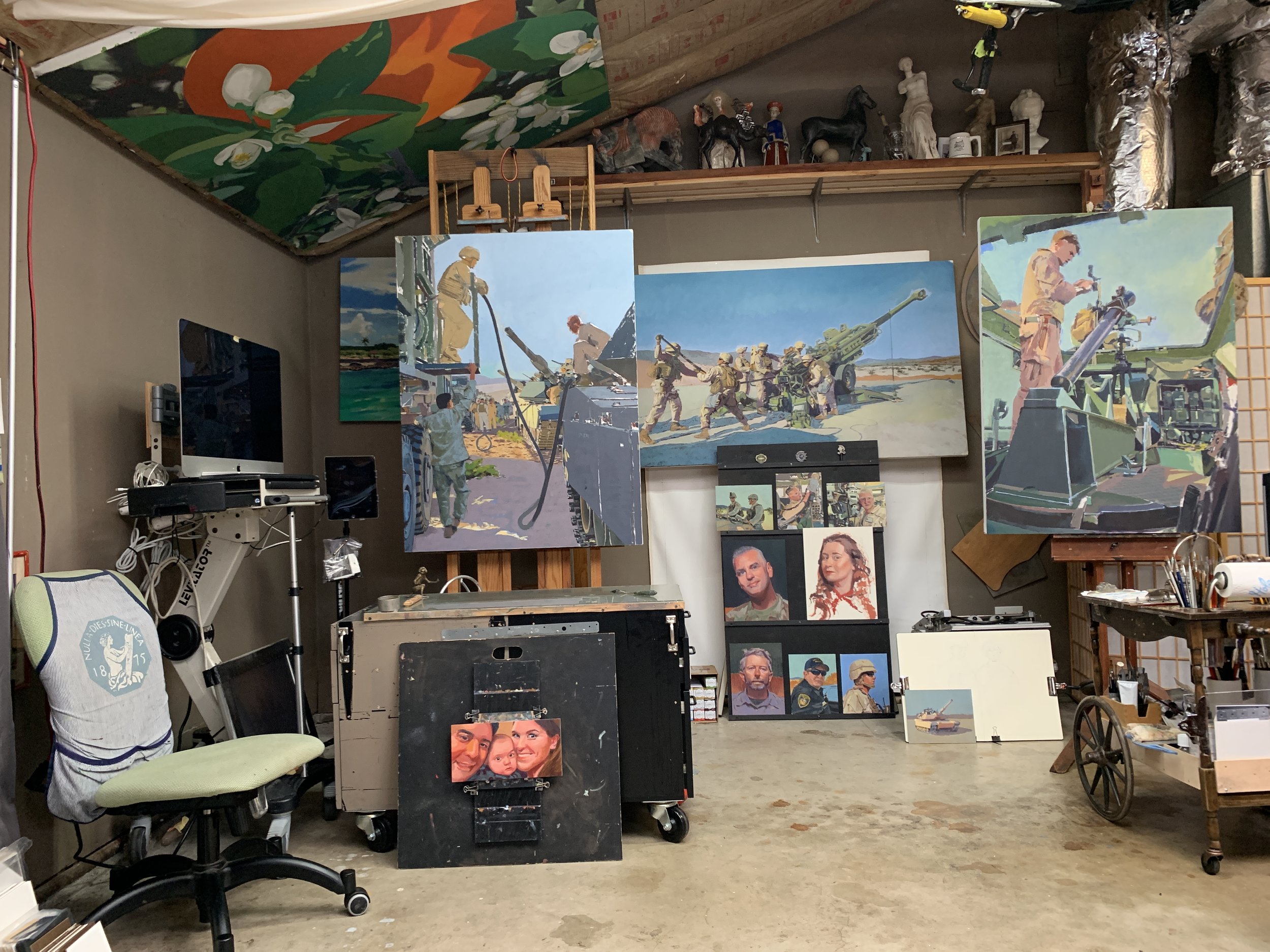 81 mm mortar mounted in a Light Armored Vehicle
I've gotten more work done on this canvas
M1A1 Abrams Tanks refueling in the desert
Still on the easel and more work to do
Capt Lindshield and Lt Branch plan their day on the hood of a Humvee
1st Marine Division
11th Marine Regiment
1st Battalion
Charlie Battery Artillery
Lance Corporal Cortez plotting fire missions by hand for the artillery. I backed up suddenly and disturbed all the careful plots on his map. My apologies sir, you were very patient with an old man.
Corporal G.A. Cortez from 1st Battalion, 5th Marine Regiment. He was with the Battalion Landing Team that came out to resupply the Artillery in the field and gave me a ride back to Camp Wilson.
Sergeant Major Bull- 1st Battalion, 11th Marines
Corporal Worthington from 2nd Light Armored Reconnaissance Battalion -Working inside the Mortar Vehicle.
Sergeant Elize McKelvey, Combat Artist. #inkstickart My guide, advisor and patient translator. A fine artist on her own, I was glad to be able to tag along. Thank you Ma'am.
Above an array of Smoke Grenade Launchers, a Tank Commander coming in from Quackenbush Range, 29 Palms, California. 1st Marines, 1st Tanks, Bravo Company
92 degrees in the Mojave Desert, 80 lbs of equipment and an M-16, Captain KB Hill goes out for three miles of her personal PT
Lance Corporal Lee —a Munitions Technician off loading unused 120mm High Explosive Anti-Tank shells after an integrated tank assault exercise at Quackenbush Range.
Amphibious Assault Vehicle coming off the Quackenbush Range at 29 Palms ITX 2018
Victor Juhasz, Combat Artist at ITX 2018, 29 Palms, CA
Refueling in the field: 120mm M1A1 Abrams Tank, 1st Marine Division, 1st Tanks, Bravo Company
Corporal Owen Walker refueling in the field: 120mm M1A1 Abrams Tank, 1st Marine Division, 1st Tanks, Bravo Company
Lieutenant Branch XO of Charlie Battery, 1st Bn, 1/11 planning first movements of the day on the hood of his Humvee — ITX 2018
Captain Weyrauch is the Commanding Officer of Bravo Company, 1st Tanks, 1st Marine Division
Lance Corporal Clegg was the best cook in the field. Charlie Battery, 1st Bn, 1/11 -- ITX 2018
155mm shells for the M777 Howitzer being resupplied in the field to the 3 Gun, Charlie Battery, 1st Bn, 1/11 -- ITX 2018
Marine Corps 1st Lieutenant Yvonne Sanchez, Airfield Security Operations Officer in Charge
Marine Corps 1st Lieutenant Yvonne Sanchez, BDOC Airfield Security Operations Officer in Charge from Marine Wing Support Squadron 274 at Marine Corps Air Station Cherry Point, North Carolina. We were all impressed by her professionalism and ability to take control in obviously chaotic circumstances.
Staff Sergeant Jason Ross. Tried and True. A kind of strength and courage I have never before seen. With great humility I proudly shook his hand.
Staff Sergeant Naylonnavarette is part American Indian and was not only one of the friendliest people I've met but had just a striking face that I had to draw.
The first Commander's Planning brief I was invited to was directed by the Executive Officer of 4th Battalion, Lt. Colonel Thomas, a real gentleman.
Sketch for a painting: Refueling an M1A1 Abrams 120mm Tank in the field. 1st Marine Division, 1st Tanks, Bravo Company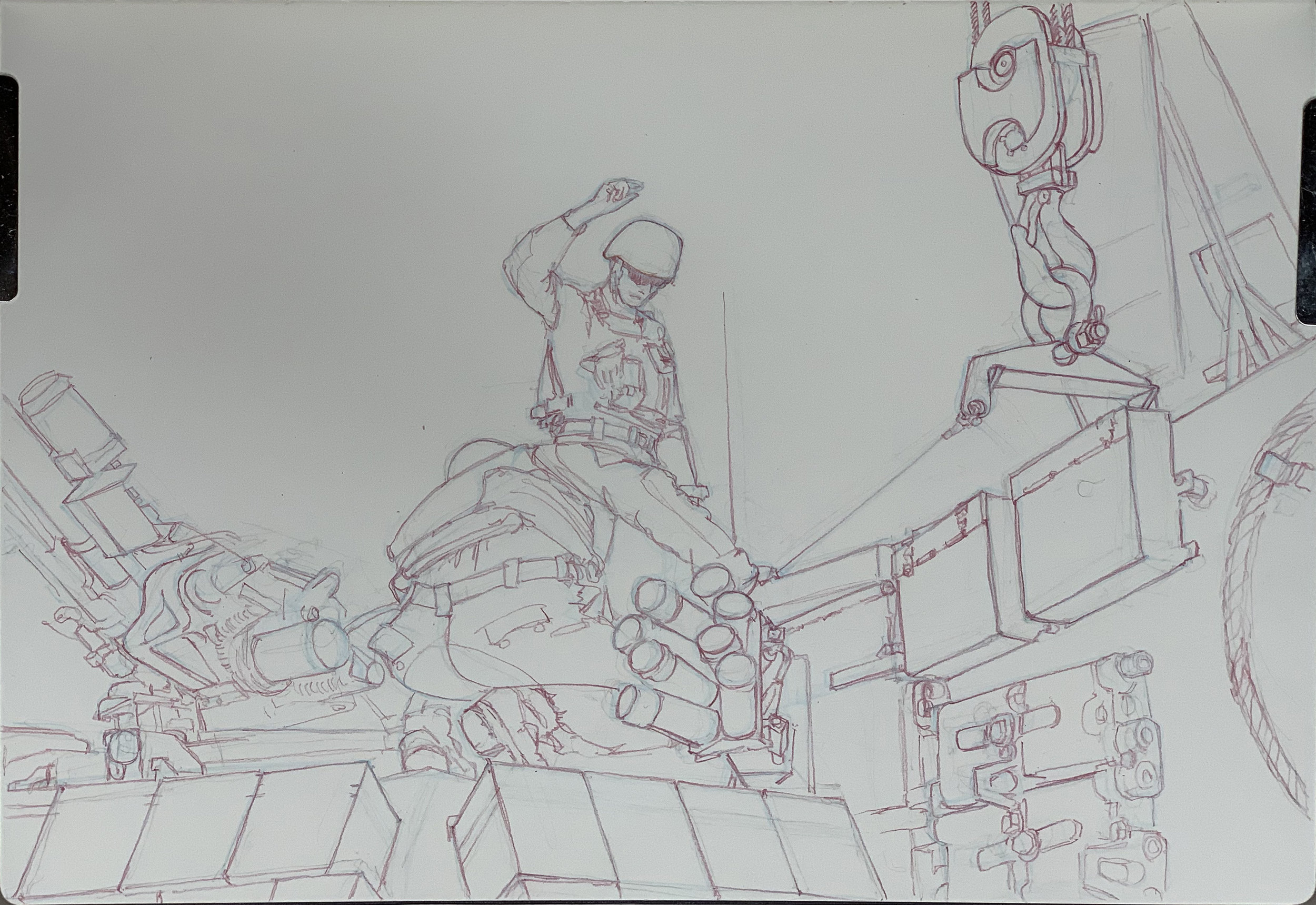 Marines carefully directing the placement of 1500 lbs of rocket propelled C4 explosive (M58 Mine Clearing Line Charges -MICLIC) into the launching platform of the M1 Assault Breach Vehicle
M777 Alpha 2 155mm Howitzer from Charlie Battery 1/11
Captain Blacker, Camp Commandant at Camp Wilson challenged the biggest and baddest Marine from a squad training in the Hand to Hand Pit. Fierce grappling, red faces and sweat for 20min in high heat.
Lance Corporal Smith during a very brief moment of calm in a simulated air field emergency training session at BDOC
Maintenance and preparation on a Light Armored Vehicle
Gunnery Sergeant Guerra Charlie Battery 1/11 outside Fire Direction Control Tent working out a plan on the hood of a Humvee
A crewman performing maintenance on a 2nd Light Armored Reconnaissance Battalion Vehicle at Camp Wilson, 29 Palms California
A brief calm moment in the BDoc during a simulated emergency at the airfield. Helmets and flacks, because an attack on their position was announced.
Touch Football. A little recreation outside the Hooches after a long day in the field.
Sergeant Rodgriguez was a "Coyote" or referee and advisor at the Air Wing Security and Communications Center; the only individual not moving during the chaos that ensued during a simulated emergency.
Private Zehring and Staff Sergeant Ryan in the Fire Control Center for C Battery 1/11
Lance Corporal Morales and Private Timmons listen to the story told by Lance Corporal Gichana during a break waiting for resupply at the Quackenbush Range.
Taking a break and curious about coming events in the training exercises.
Sgt Bowen, Cpl Chandler, LCpl Pittones Jr., Cpl King from the central #3 Gun in Charlie Battery 1/11
MCMAP Tan Belt Hand to Hand Combat Training with instruction by Sergeant Gouveia.